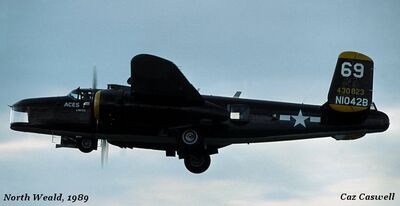 N1042B was the main camera aircraft for The miniseries.
This B-25 had been built as a B-25J by North American Aviation at its Kansas City plant, being accepted for service by the AAF on March 1, 1945 with s/n 44-30823. It spent its first few years being assigned to training units, eventually being redesignated as a TB-25J. That changed in 1949 when it was reassigned as a VIP transport, becoming a VB-25J. In 1956 it, and hundreds of other USAF B-25Js, were extensively updated with new systems and equipment by Hayes at Huntsville, Alabama, essentially becoming zero-time aircraft, and 44-30823 then became a VB-25N. Its service life afterwards was shortlived, however, as aircraft records show it was landed gear-up in 1958. As B-25s were being excessed out of the USAF inventory, the aircraft was not repaired and was instead declared as salvage.
The aircraft was purchased by Wenatchee Air Services of Wenatchee, Washington, for $855 in 1958. After being repaired, it was registered as N1042B and set aside for a future conversion to an air tanker. The U.S. Forest Service lost interest in B-25 air tankers, however, after a stunning four B-25 tankers were lost in July 1960. B-25s slated for conversion languished at many western airfields, but N1042B was saved when Tallmantz came looking. It was purchased in May 1962. [2]
As N1042B, used as camera ship by Tallmantz Aviation in the US and later by Aces High Ltd in England. Was *Catch 22* camera plane.[3] Now airworthy, the aircraft was operated by Aces High, North Weald, Essex, UK, from April 1988 to January 1995, flying as 430823/69/Dolly. Returned to USA (still as N1042B) the aircraft passed to World Jet Inc of Fort Lauderdale, FL, in 1995. The following year the camera nose was replaced with a standard bomber nose, and the aircraft was renamed Girls Rule. In 2002 the aircraft passed to John Lister of San Antonio, flying as Top Secret. Briefly owned by Jim Terry during 2003-2004, the aircraft passed to Pacific Prowler LLC, Cleburne, TX, 2007-2012, flying as Pacific Prowler.[4]
References
Edit