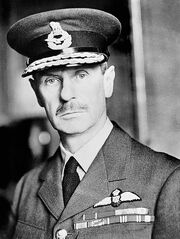 Air Chief Marshal Hugh Caswell Tremenheere Dowding was (1882-1970) was a Scottish airforce officer, and C-in-C Fighter Command during the events depicted in Piece of Cake.
Born in Moffet, Dumfrieshire, and educated at Winchester and the Royal Military Academy, Woolwich, he joined the army in 1900, and the airforce in 1914, and was decorated for service in World War I.
As Commander-in-Chief of Fighter Command (1936-1940), he organised the air defence of Great Britain, and in August-September 1940 the Luftwaffe was defeated in the momentous Battle of Britain. Relieved of his post in November 1940, he represented the Minister for Aircraft Production in the United States of America (1940-1942) before retiring. Created a peer - Lord Dowding of Bentley Prior - in 1943 [2]
Dowding is mentioned twice in Piece of Cake - when Squadron Leader Rex describes the Dowding Spread, and when he comments on the long burst long range method of attack. Both references are based on Dowding's own statements.[3]
References
Edit
↑

McGovern, Una. Chambers Biographical Dictionary. Chambers Harrap Publishers Ltd (2002)

↑ Piece of Cake (novel) pages 669-670.
Ad blocker interference detected!
Wikia is a free-to-use site that makes money from advertising. We have a modified experience for viewers using ad blockers

Wikia is not accessible if you've made further modifications. Remove the custom ad blocker rule(s) and the page will load as expected.