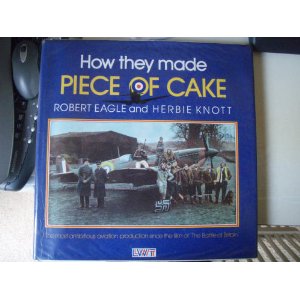 How They Made Piece of Cake is a book by Robert Eagle and Herbie Knott, detailing the production of the LWT Miniseries Piece of Cake.
Product details
Edit
Hardcover: 120 pages
Publisher: Boxtree Ltd; First Edition edition (15 Sep 1988)
Language: English
ISBN-10: 1852832398
ISBN-13: 978-1852832391
Product Dimensions: 25.9 x 25.4 x 2.5 cm
| Title | Subtitle | Author | Page |
| --- | --- | --- | --- |
| Firing Up | The beginnings of Piece of Cake | Robert Eagle | 6 |
| Why I wrote Piece of Cake | | Derek Robinson | 16 |
| Tactics, Skills and Hardware | The lessons learnt in the first year of war | Derek Robinbson | 26 |
| Fighting Machines | The aircraft they fought in | Mike Jerram | 41 |
| Setting the Scene | How the aircraft and locations were found | Robert Eagle | 66 |
| Action! | How Piece of Cake was filmed | Robert Eagle | 84 |
| Flying the Messerschmitt Me 109 | | Walter Eichorn | 112 |
| Flying the Spitfire | | Brian Smith | 114 |
| Cast | | | 116 |
| An Airman's Ecstasy | | | 118 |
| Acknowledments | | | 120 |
Piece of History, 18 Dec 2009 By Hercules Aviator "Mature Student" (Wiltshire, UK) - How They Made "Piece of Cake" (Hardcover) This is the story of the TV series, an excellent programme I might add. Making the series was not easy, the original book is about a Hurricane Squadron; no Spitfires were based in France but Hurricanes were in short supply when the programme was made. Apart from that, the story of the making is enthralling. The book gives excellent insights in the technical difficulties the programme makes had to surmount, weather, aircraft availability. An excellent read and worthy of a place in any collection on the WWII film/programme collectors shelf.
Piece of Cake, 15 Feb 2012 By Rosie - How They Made "Piece of Cake" (Hardcover) If you enjoyed the series on TV, then to see how and where the series was made is a worthwhile excerise. An insight into a world gone by - I very much doubt that we would see such selfless bravery if we were under threat again, in the same way. Makes you appreciate the brave men and women who are serving overseas, in a different theatre and in different circumstances, on our behalf at present. Let's hope their sacrifice is not in vain!!
Product info and reviews from Amazon
References
Edit
Ad blocker interference detected!
Wikia is a free-to-use site that makes money from advertising. We have a modified experience for viewers using ad blockers

Wikia is not accessible if you've made further modifications. Remove the custom ad blocker rule(s) and the page will load as expected.